Les Georgettes x La Guinguette d'Angèle
A partnership built around the theme of gourmet food and Made in France. This would be the best way to describe our collaboration with La Guinguette d'Angèle. Made using fresh, local produce, the culinary creations of La Guinguette d'Angèle have something for everyone. The recipes are healthy and adapted to everyone's tastes. They are accessible to all and invite you to let your creativity flow. So don't hesitate to put your own spin on things! At Les Georgettes, we have selected two recipes - a main dish and a dessert - to delight both sweet and savoury palates. Get cooking!
OVEN-ROASTED RED ONION AND CARROT IN A CREAMY MINT AND LEMON SAUCE
Serves 4 / Preparation time: 10 minutes / Cooking time: 30 to 35 minutes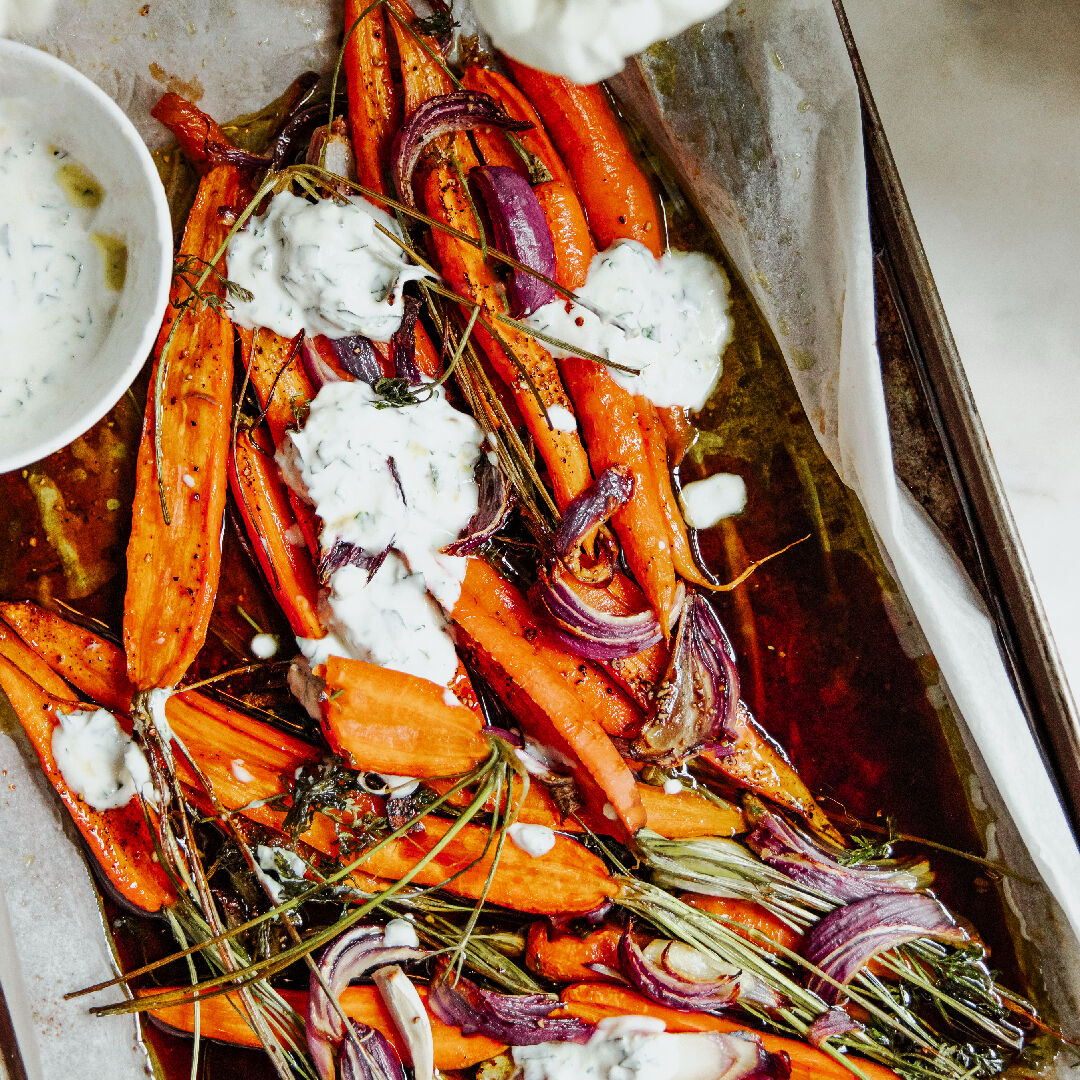 INGREDIENTS
For the roasted vegetables: 1 nice bunch of carrots, 1 red onion, 4 tablespoons olive oil, 4 tablespoons maple syrup, 2 tablespoons tamari (or soy sauce)
For the sauce: 150g Greek yogurt (or vegetable), zest and juice of 1 lemon, 1 small bunch of mint

1. Preheat the oven to 180°C. Rinse the carrots and save the tops, if you want to.
2. Cut the carrots lengthwise and place them in an ovenproof dish. Add the roughly chopped onions (they will reduce in size during cooking).
3. Drizzle the vegetables with olive oil, maple syrup and tamari or soy sauce, and season with pepper to taste. If you wish, you can also add spices such as turmeric, paprika, tandoori and more... Let your creativity run riot!
4. Bake for 30 to 40 minutes. The vegetables should be soft.
5. Meanwhile, prepare the sauce: remove the zest from the lemon and squeeze out its juice. Finely chop the mint leaves and mix with the yogurt.
Serve the vegetables hot with the creamy sauce, it will be a delight!
ROASTED RHUBARB WITH ORANGE BLOSSOM, COCONUT YOGHURT AND WHITE CHOCOLATE RICE CRISP
Serves 4 / Preparation time: 10-15 minutes / Cooking time: 25 minute + 5 minute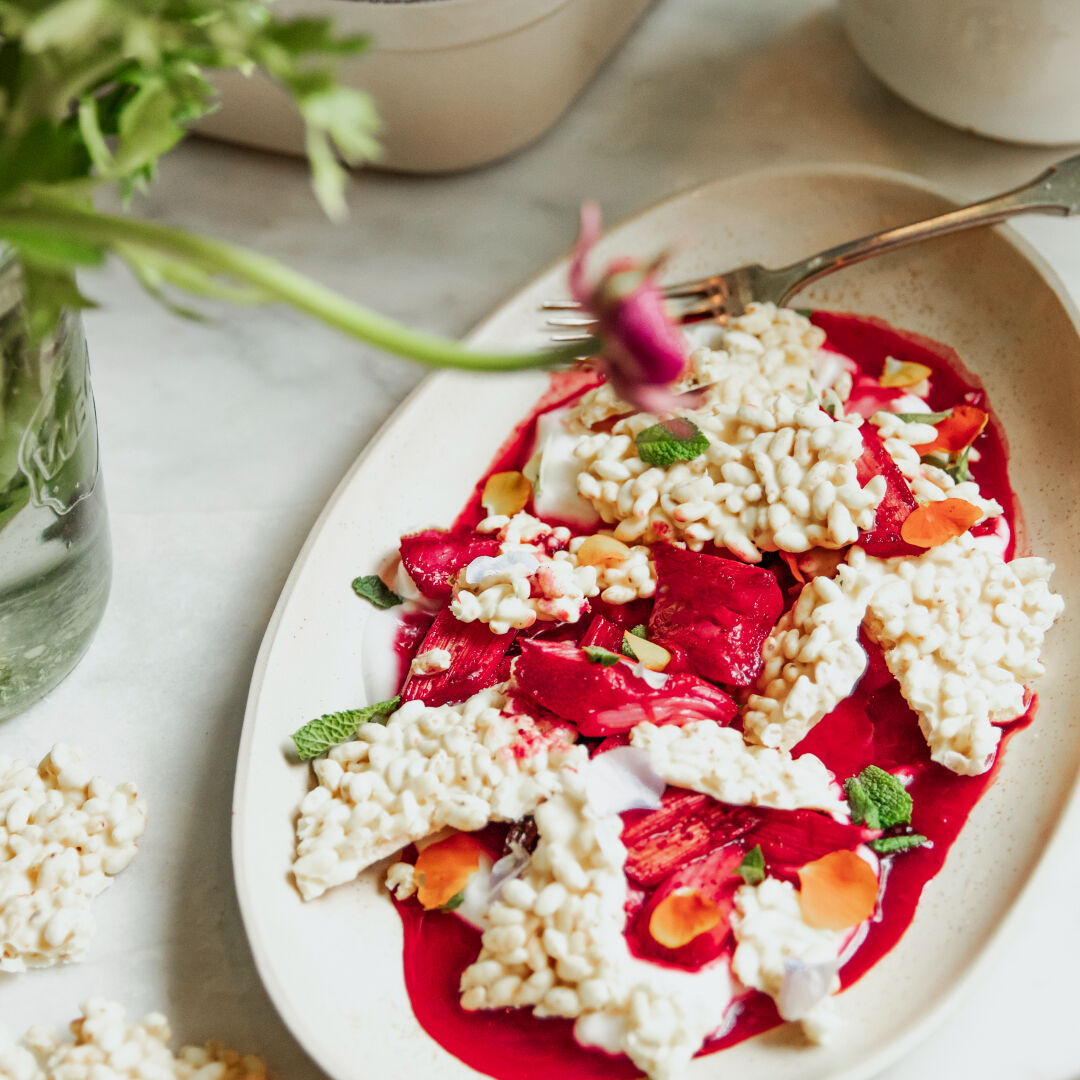 INGREDIENTS
For the roasted rhubarb: 3 to 4 beautiful rhubarb stalks, 3 tablespoons maple or agave syrup, 3 tablespoons orange blossom water, 5 cl beetroot juice
For the crunch: 60 g of puffed rice and 160 g of white chocolate (or other chocolate)
For the yoghurt: 400 g coconut yoghurt

1. Preheat the oven to 180°C. Gently rinse the rhubarb stems and scrape the surface with a small knife. Cut them into pieces and place them in an ovenproof dish. Sprinkle with maple or agave syrup, then orange blossom water and beetroot juice.
2. Bake for 25 minutes. If necessary, halfway through cooking, sprinkle it with juice.
3. In the meantime, prepare the crunch: melt the white chocolate over a very low heat. For this step, you can also heat a small saucepan over high heat for a few minutes and pour in the chocolate off the heat, stirring well. It will melt by itself!
4. Add the melted white chocolate to the puffed rice in a bowl. Mix well so that the puffed rice grains are well coated. Pour onto a baking sheet lined with baking paper and spread with a spoon, then chill for 30 minutes.
5. Before serving, spoon some of the coconut yogurt into pretty bowls, add the roasted rhubarb pieces on top, then finish with the pre-cut crunch, and some mint flowers and leaves if you have them.
Ready to go? Taste it!